What is Arduino? It's a THE tool to use if you want to make your own flame-throwing pony-robot, Gmail LED notifier or something like this spider robot:
Back in 2005, Massimo Banzi was a teacher at a school for interaction design in a small beautiful town in Italy called Ivrea. His students needed a way to control things automatically. Like turning on and off lights depending on the amount of light in a room. Or to play a sound when someone stepped on a certain tile.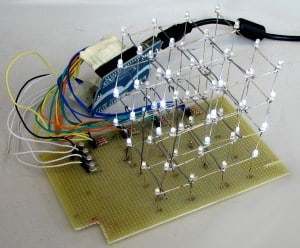 In general, they needed to make something happen based on some input. You know – interaction-design-student-stuff. But the boards they used where relatively expensive and hard to program. And they didn't work on Mac, which was the platform most of the students used.
So Massimo decided, together with a few colleagues, to create a board that was super-easy to use and cheap. It should not cost more than it would cost to go out and eat at a pizza restaurant. And it should work on both Windows, Mac and Linux.
Hernando Barragan, a student, made the first step towards this. He made a prototyping platform called Wiring. It was a promising project that continues to this day. But Massimo wanted something even simpler and cheaper. So together with his team they developed the first Arduino board.
So What Is Arduino?
Arduino is a board with a microcontroller that you can easily program to do awesome stuff.
Like building a remote control. Or fading an LED light with your breath.
It's designed to be really easy to use, even for non-technical people like designers, artists and so on. It has several inputs and outputs that are controlled by simple commands that you write into a program on your computer.
Inputs and Outputs
Inputs and outputs are pins on the Arduino that you can use to either put information into the Arduino (input) or take out from the Arduino (output).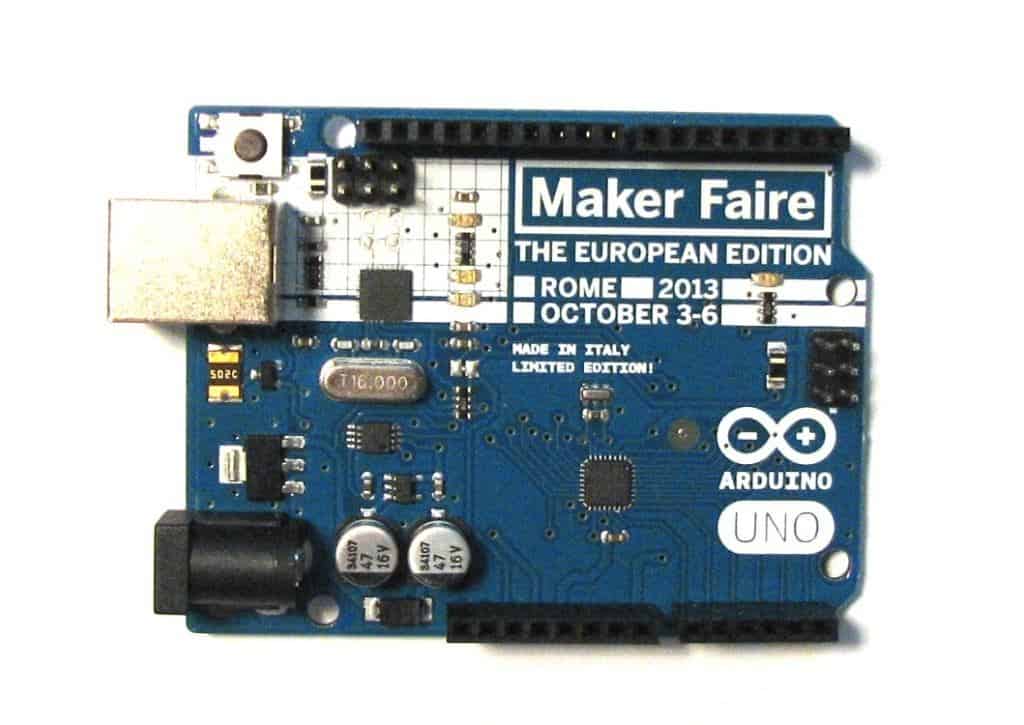 If you connect a push-button to an input, you can check if the button is pushed or not by writing digitalRead() in the Arduino.
If you connect a Light-Emitting Diode to an output, you can turn the light on and off by writing digitalWrite() in your program code.
Check out What Is Arduino Programming to learn more.
Arduino Boards
There are many different Arduino boards available. At the time of writing there are 20 different boards available at the Arduino website.
I would advice anyone who is starting out to go for one of the standard Arduino USB boards. Either the Arduino Leonardo or Arduino Uno. These are basically equal, but the Leonardo has some extra USB features.
When you are starting to get a bit more familiar with the Arduino board, you could consider looking into the other boards too. Below I've listed a brief explanation of the other boards.
Arduino Mega – More Inputs and Outputs
If you want more input and output pins you should get an Arduino Mega board.
Arduino Zero – More Power and 2 x USB
This is the latest board from Arduino. If you want more processing power, the Arduino Zero is a great option. It also includes a second USB interface which is really useful for debugging.
Arduino Due – Super Powers
The Arduino Due is the first Arduino that is based on an 32-bit ARM processor. It has the same amount of input/output pins as the Arduino Mega, just much more powerful.
Arduino Yún – Arduino with Wifi
If you want WiFi connection on your Arduino, then Arduino Yún is the board for you. It's basically an Arduino USB with added WiFi. Extremely cool.
Arduino Tre – HDMI+++
What is Arduino Tre you ask? It has it all. 1 GHz processor, 512 MB DDR3 RAM, sound output, HDMI output, USB Host+Device. If you need a lot of power, screen and sound output, but with the same simple Arduino interface you are used to, then this is for you. This board is still at its development stage at the time of writing.
Arduino Lilypad – Integrate Electronics Into Textiles
The Lilypad is a smaller and round board that can easily be integrated into clothes, bags or other textiles.
Arduino Mini/Micro/Nano – When Size Matters
These are boards that are much smaller than the standard Arduino. You won't get that many input and output pins, but if you need something that doesn't take up much space, then one of these boards are for you.
More Resources
I love working with Arduino because everything is so simple to do with it. So be prepared for more Arduino articles on my blog.
For now, let me direct you to:
If you are still not quite sure what an Arduino is, or if you have any other questions on your mind – leave a comment in the comment section below.