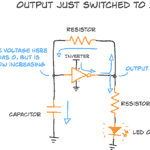 Enter your name and email below to receive my free email course on how to create a circuit that blinks a light.
It's for beginners, and you'll learn:
How the circuit works, including what each component does.
How to get your hands on the components to build it.
How to build it, step-by-step.
Once the main lessons are finished, you'll continue to receive about 3 additional lessons per week as a part of my inner circle of email subscribers.
But you are of course free to unsubscribe at any moment should you decide that you no longer are interested in receiving these lessons.
Add your name and email below to start your lessons.