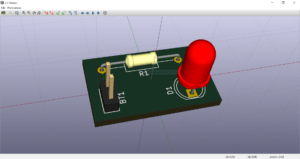 Last year I started using KiCad as an alternative to Eagle.
For those unfamiliar with these programs: they are programs you use to design a printed circuit board (PCB).
And I decided to create a quickstart introduction to KiCad.
In this 5-minute video you'll see how to design a simple circuit board from scratch:

The purpose of the video is to show you all the steps necessary to create a board in KiCAD.
You won't learn every step from this video.
It's more for getting you that feeling of "huh, that's not too bad… I can do that!"
I will also create a proper course on how to use KiCad that I will publish on Ohmify.
Currently, I have courses on how to design boards with Eagle and Fritzing, so it's time to get a KiCad course up and running also.
Let me know your biggest struggle when it comes to designing a PCB in the comment field.
I'll read all the comments and these will help shape the upcoming KiCad course.
Keep On Soldering!
Oyvind @ build-electronic-circuits.com