A Light-Emitting Diode (LED) is a small component that lights up when there is current flowing through it. It's used in light bulbs, displays, lighting decorations, and much more. In electronics, it's often used for showing the state (is the gadget turned on?).
You can see the light-emitting diode everywhere! In laptops, on mobile phones, on cameras, on toys, in our car +++.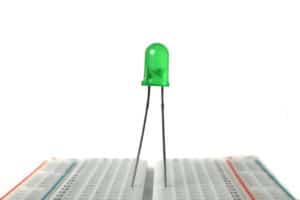 It's a type of diode, so it only works when you connect it with its anode towards your battery's plus terminal.
Chances are you will be working with LEDs a lot when you start learning electronics. They are cheap and simple to use, and it's a great way to check if your circuit is working properly or not.