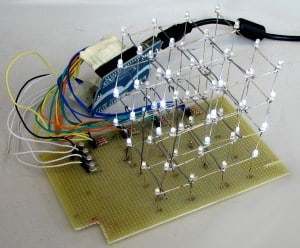 I write a lot about LEDs these days.
And in case you don't know – LED is kind of mini light bulb. A small component that creates light.
There are two ways to change the brightness of the LED:
* Change the resistor value
To change the brightness by adjusting the resistor value – just add a potentiometer in series with the LED. When you adjust the knob of the resistor, the brightness of the LED will change.
* Turn it on and off fast
Another method is to turn the LED on and off fast. Maybe a few hundred times per second. Usually you want to use a microcontroller for this. By adjusting the percentage the LED is on versus off – it will appear to the eye that the brightness changes.
That's today's tip. Now enjoy your weekend. And I hope you will have time for some tinkering with electronics.
To get started building simple circuits like blinking lights and sirens – I recommend my eBook «Getting Started With Electronics» which you can find here:
https://www.build-electronic-circuits.com/products/ebook-2nd-edition/
Keep on Soldering!
Oyvind