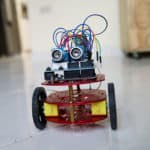 Thomas was right. It was impossible to get anyone to do anything in December in Medellin. So I continued on my own.
There was one challenge left before I could assemble it all and program the robot: The ultrasonic sensor.
I hadn't tested it yet, so I had no idea how well it would work.
[Read more…]

about Club de Arduino – Week 5: Finishing the Robot