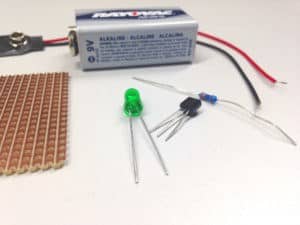 There are a bunch of places to buy electronic components.
Myself, I love to go to a brick-and-mortar store to buy components, because then I can get them without waiting. Unfortunately, many cities don't have these anymore. So what do you do?
The solution:
Buy electronic components online. And if you've never bought components before, check out the links at the end with tips on how to choose components.
Below I've listed the stores that I've either used myself or that I've been recommended. After the list, you'll get my favorite electronic component distributors with some comments about each of them.
List of where to buy electronic components
Amazon – www.amazon.com (US / Worldwide)
Adafruit – www.adafruit.com (US)
DigiKey – www.digikey.com (US / Worldwide)
SparkFun – www.sparkfun.com (US)
Jameco – www.jameco.com (US)
All Electronics – www.allelectronics.com (US)
Lee's Electronic – leeselectronic.com (Canada)
Bitsbox – www.bitsbox.co.uk (UK)
Spiratronics – www.spiratronics.com (UK)
Rapid Electronics – www.rapidonline.com (UK)
Quasar Electronics – www.quasarelectronics.co.uk (UK)
Planeta Electrónico – www.planetaelectronico.com (Spain)
Electrokit – www.electrokit.com (Sweden)
Jaycar – www.jaycar.com.au (Australia)
Protostack – www.protostack.com (Australia)
Seeed Studio – www.seeedstudio.com (China)
Tayda Electronics – www.taydaelectronics.com (Thailand, US)
Farnell – www.farnell.com (Worldwide)
Mouser – www.mouser.com (Worldwide)
If you don't see your favorite store here, add it in the comments below and I'll check it out.
My Top 5 Favorite Electronic Component Distributors
Jameco
Jameco has lots of parts, and they seem to be extra fond of hobbyists. They have a project-section with lots of project tutorials and shopping lists.
They are geared mostly towards the US, but do shop world-wide.
Jameco is one of those good ol' companies you can trust, as they have been around since 1974.
DigiKey
Digi-Key has a very large selection of electronic components. It is probably the cheapest of the electronic component distributors (but I have not done a detailed comparison).
If you know what part you are looking for and what it is called then Digi-Key usually have it. But, it is not a good place to look for something that you don't know the name of in advance.
They have low prices and fast shipping. The downside is that the documentation is not always as good as I would want and many products lack pictures.
Some components lack data sheets as well, but usually you'll find the datasheet online somewhere else with Google.
Farnell
Farnell's customer service is very good and they have a good free resource for design advice. They have a good selection of electronic components, modules and tools.
The documentation is usually ok but some products lack pictures and data sheet. Their prices are also a bit more expensive than Digi-Key.
Sparkfun
A very good place to find modules and components aimed at hobbyists is Sparkfun.
Of all the electronic component distributors, this is my favorite place to "hang out" and just look for cool stuff. They have pictures of all their products (actually I think the reason they started Sparkfun was because other distributors lacked good pictures of the components) and good documentation. Customers can discuss the components and help one another.
At Sparkfun, you can browse around and find what you are looking for even when you're not sure what exactly you are looking for!
They have many good tutorials and articles about electronic circuits. Sparkfun radiates a good vibe that makes you want to shop there. It seems like the employees have fun at work, and I love that.
They are a bit more expensive than Digi-Key, so I usually go there for their custom modules or to find the name of what I am looking for.
Here is an interview I did with SparkFun.
Seeed Studio
Seeed Studio is very similar to Sparkfun both in their selection of products and in their vibe. They make an effort to provide good pictures, tutorials and documentation of the parts. They design a lot of their own modules.
Seeed Studio also provides some very useful services like PCB manufacturing, PCB assembly, and a portal to sell your own kits. Also a bit more expensive than DigiKey.
Read my interview with Seeed Studio.
How to choose components?
If you've never bought components before, it's a bit intimidating. Some stores have A LOT of different components.
But once you get the hang of it – it's easy. And suddenly you're not limited by the supply of one store. The whole world is your shopping center.
Here's a tip for beginners:
DigiKey has about every component that exists in the universe. That's great, but a bit overwhelming. Start your search by using a more hobby-oriented shop like Sparkfun or Bitsbox. There you'll find the most standard transistors, resistors, and capacitors that usually work for most beginner projects. Find the part numbers and use these to order from whatever store that has the best shipping option for you.
Here are a few articles that will help you choose components:
More Electronic Components Tutorials