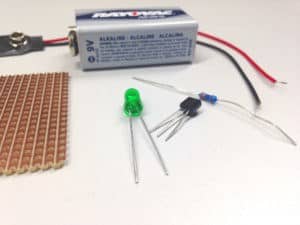 There's a bunch of places to buy electronic components.
Myself, I love to go to a brick-and-mortar store to buy components, because then I can get them without waiting. Unfortunately, many cities don't have these anymore. So what do you do?
The solution:
Buy electronic components online. And if you've never bought components before, check out the links at the end with tips on how to choose components.
Below I've listed the stores that I've either used myself or that I've been recommended.
List of where to buy electronic components
Amazon – www.amazon.com (US / Worldwide)
Adafruit – www.adafruit.com (US)
DigiKey – www.digikey.com (US / Worldwide)
SparkFun – www.sparkfun.com (US)
Jameco – www.jameco.com (US)
All Electronics – www.allelectronics.com (US)
Lee's Electronic – leeselectronic.com (Canada)
Bitsbox – www.bitsbox.co.uk (UK)
Spiratronics – www.spiratronics.com (UK)
Rapid Electronics – www.rapidonline.com (UK)
Quasar Electronics – www.quasarelectronics.co.uk (UK)
Planeta Electrónico – www.planetaelectronico.com (Spain)
Electrokit – www.electrokit.com (Sweden)
Jaycar – www.jaycar.com.au (Australia)
Protostack – www.protostack.com (Australia)
Seeed Studio – www.seeedstudio.com (China)
Tayda Electronics – www.taydaelectronics.com (Thailand, US)
Farnell – www.farnell.com (Worldwide)
If you don't see your favorite store here, add it in the comments below and I'll check it out.
How to choose components?
If you've never bought components before, it's a bit intimidating. Some stores have A LOT of different components.
But once you get the hang of it – it's easy. And suddenly you're not limited by the supply of one store. The whole world is your shopping center.
Here's a tip for beginners:
DigiKey has about every component that exists in the universe. That's great, but a bit overwhelming. Start your search by using a more hobby-oriented shop like Sparkfun or Bitsbox. There you'll find the most standard transistors, resistors, and capacitors that usually work for most beginner projects. Find the part numbers and use these to order from whatever store that has the best shipping option for you.
Here are a few articles that will help you choose components: