The 555 timer is a chip that we use to get timing into our circuits without using a microcontroller. What can you do with timing, you ask?
Lots of things!
It's pretty cheap and has been around for a long time. Here is what everybody ought to know about it.
You Can Make Sound With The 555 Timer
With the 555 timer you can easily make an oscillating signal. An oscillating signal is a voltage that goes up and down regularly. For example between 5 and 0 volts.
If it goes up and down really fast – you can hook it up to a speaker and you will hear a sound. So you can use it to make an alarm.
Or even better – you can recreate the computer sounds of the 80s with the Atari Punk Console.
You Can Make A Light Blink
Like mentioned above, you can create an oscillating signal. Let's say we have the same signal as above, just that it switches between 0 and 5 volt a lot slower…
Hook this up to a light and you will have a blinking light. This is an alternative to the three simple ways to blink a light.
Turning Something On For a Certain Period Of Time
The 555 timer can be configured so that when you give it a trigger signal, it gives out an output voltage for a certain period of time. Then you can use this voltage to turn on a motor or a light in an interactive museum installation, and automatically turn it off after a set time.
It's a Cheap Chip
You can usually get it for less than 50 cents. For example, check out this package of 30 pieces of the 555 Timer at Amazon.
The Time Is Set Using Resistors And a Capacitor
The specific timing of the chip is determined by resistors and a capacitor. To find out how to calculate it, use our 555 timer calculator. You can also find a lot of good circuits and a more in-depth explanation of how it works there. Definitely worth checking out.
I'll end this article with a practical example. Here is how you can make a metronome with the 555 timer: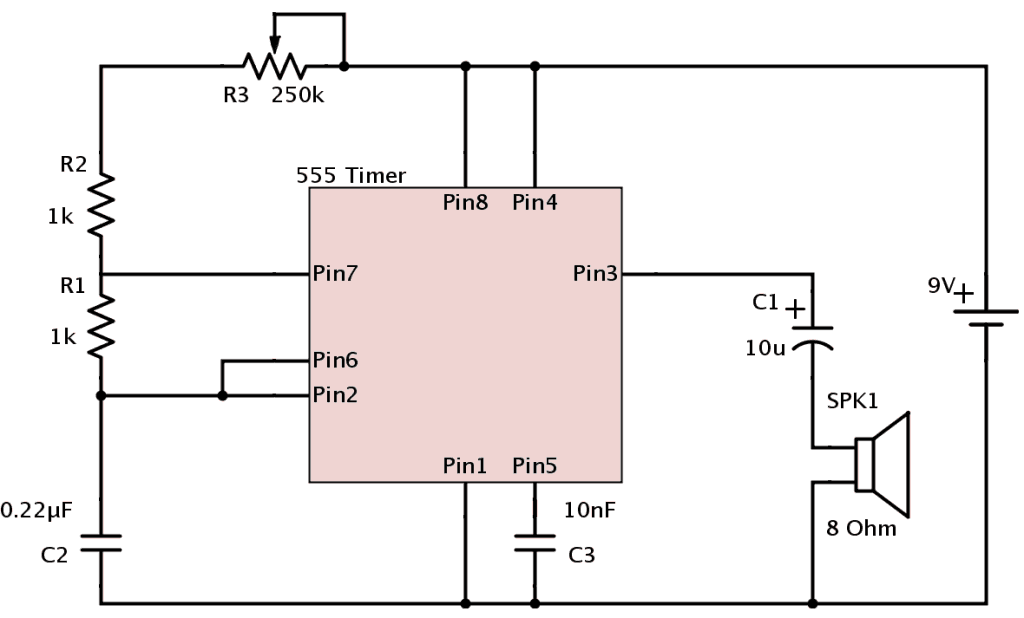 Return from "The 555 Timer" to "Electronic Components Online"