Do you want to build a circuit that blinks a light? This inverter-based circuit is simple, and it's small enough to fit a breadboard.
Apart from the inverter, it only uses standard basic electronic components.
Below you'll find the complete circuit diagram and component list.
The Circuit Diagram
In the lessons, you learned that you needed an inverter for this circuit. But there's one important point if you want to build this:
You need to use a Schmitt-triggered inverter. It's an inverter where the voltage at which it switches from LOW to HIGH is higher than the voltage for switching from HIGH to LOW.
You'll find the complete circuit diagram below.
The numbers next to each pin in the diagram represent the pin number on the integrated circuit. Click here for the pinout of the 74C14 IC.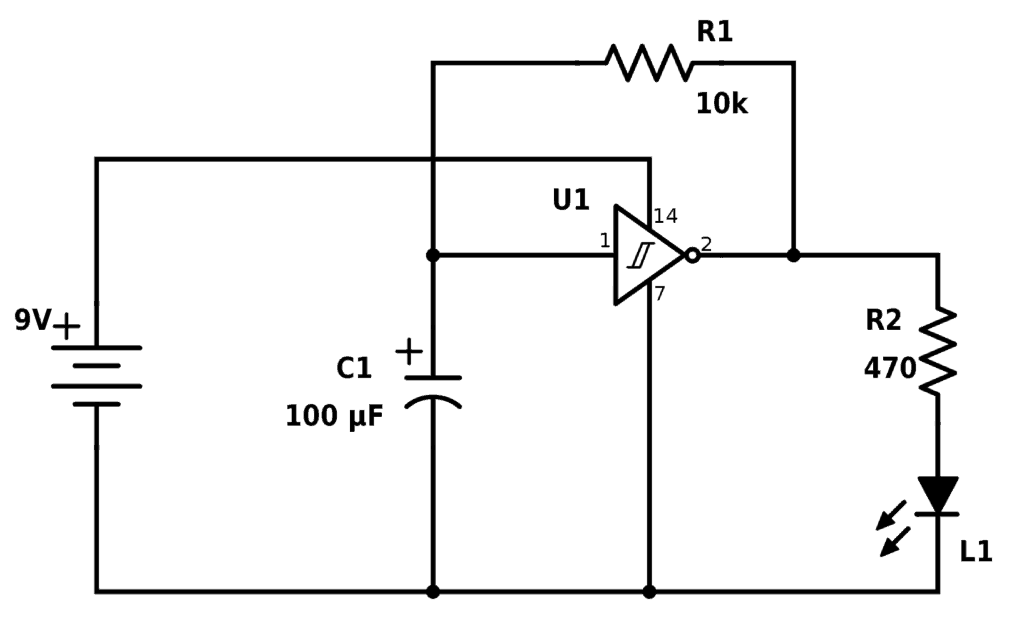 The Components You Need
| Part | Value | Note |
| --- | --- | --- |
| – | – | Breadboard |
| U1 | 74C14 | Hex Schmitt Trigger Inverter |
| C1 | 100μF | Polarized capacitor |
| R1 | 10 kΩ | Standard Resistor |
| R2 | 470 Ω | Standard Resistor |
| LED | – | Standard output light-emitting diode |
Below you can see a video of the circuit I built:
Did you build it? How did it go?
Let me know in the comments below.